EZ Gel Dispenser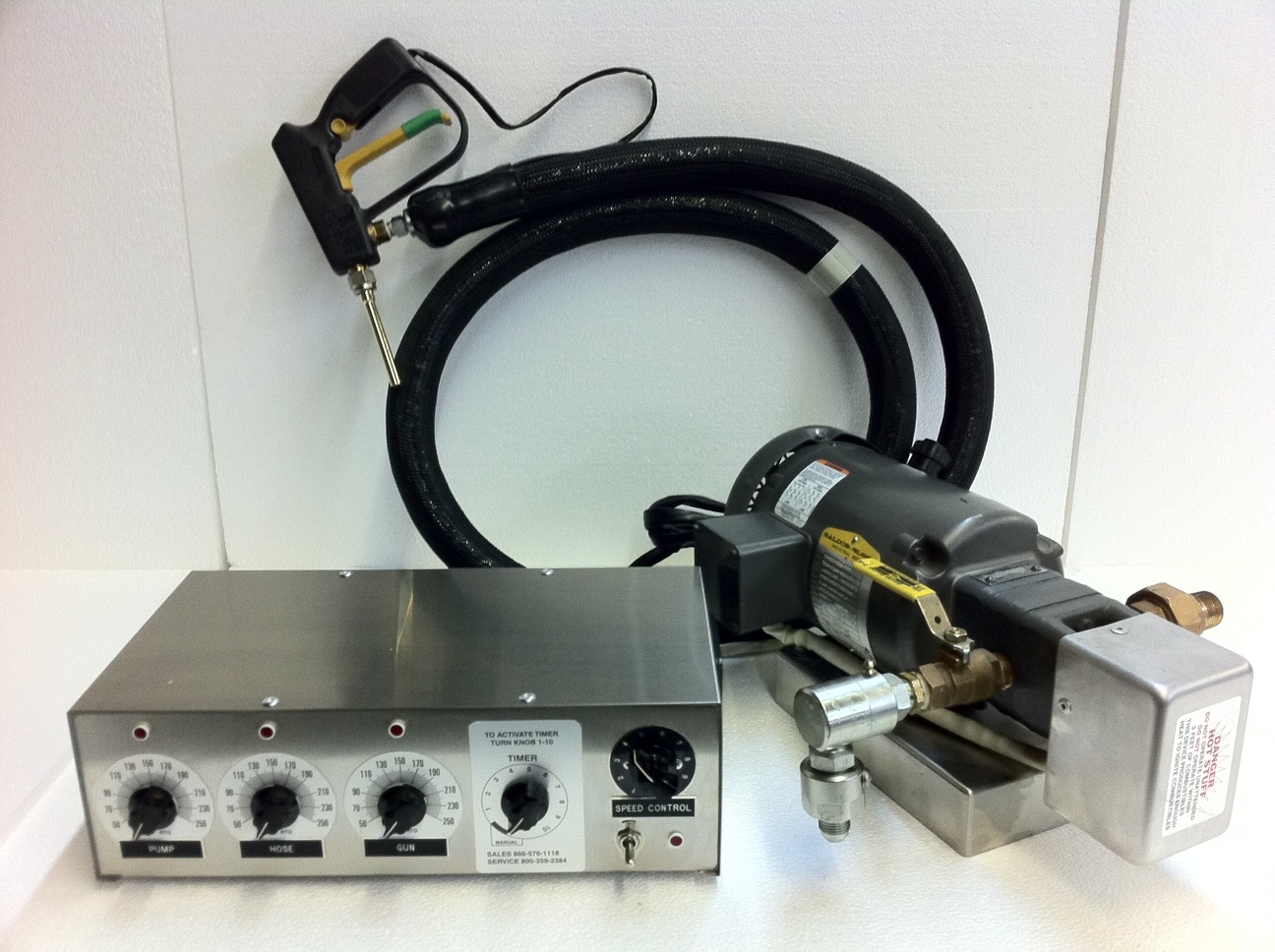 THE HEATED GEL FILLING SYSTEM designed for use with gel. Fill candles fast and control pouring temperatures with temperature controller. Large pump for fast filling. Reduce waste and increase production. No more cleaning of pouring pitchers! Innovative design, exclusively a Rite-Hete product, manufactured on-site in our factory. Order your system today! 
                                         2023 pricing is $5066.00 + s/h
THE EZ GEL DISPENSING SYSTEM INCLUDES:
HEATED GEAR PUMP

1/3 HP gear pump
Non-shearing action giving you larger volume per pump rotation
0-1 gallon per minute
Designed for higher viscosity materials
Dependable & repeatable dispensing
Pump motor speed control for flow control
Mild steel pump, not for use with water based products

HEATED HOSE & HANDGUN

8 foot Teflon steel-braid heated hose
Nylon heated handgun with 3 inch extension nozzle
Variable temperature control, 60-250 degrees Fahrenheit
Lightweight, cool handle, easy to use

ELECTRIC RELAY

110 volt / 7 amp draw
Manual or timed dispense

This system connects with a ¾" male NPT fitting to your existing melting tank ball valve. Ask us about commercial melting tanks, manufactured by Rite-Hete Corporation on-site in our factory, designed to meet your melting requirements.

SYSTEM DESIGNED FOR USE WITH THE FOLLOWING MATERIALS:

Gels
Lip balms
Paraffin
Beeswax
Soy wax
Some higher viscosity materials
Ideal for filling containers & molds

SYSTEM BENEFITS:

Increases production, reduces waste & clean up with FAST filling
Consistent pouring temperatures
Allows for stop and go filling
Eliminates pouring AND the cleaning of pouring pots
FAST and easy color change
 VIEW OR DOWNLOAD OPERATING INSTRUCTIONS
VIEW OR DOWNLOAD TROUBLESHOOTING INSTRUCTIONS
  WE ACCEPT VISA, MASTERCARD, AND AMERICAN EXPRESS CREDIT CARDS, CASHIERS CHECKS AND MONEY ORDERS; PREPAYMENT IS REQUIRED. A 3.5% TRANSACTION FEE WILL BE CHARGED ON ALL CREDIT CARD PURCHASES. ALL OF OUR PRODUCTS ARE PROUDLY MADE IN THE USA.
If you have questions, or want to place an order,
please call us TOLL FREE: 
1-800-359-2384
OR
Send email to info@meltingtanks.com