About Us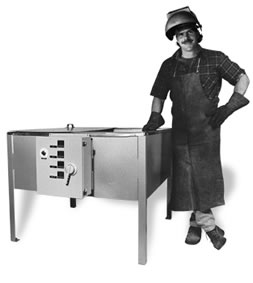 Custom Melting Pots and Tanks
for Research and Production
We custom build to your requirements if our standard models don't meet your needs. We'll respond quickly with specifications and prices. Consider these design features in your custom requirements: stainless steel crucibles, solid-state temperature controls and heated drain valves. Custom work is not an interruption, it's a normal part of our customer service. Ask for Steve Smith, our custom specialist.
Our melting pots and tanks are constructed with a multiple-circuit, blanket-type heating element that is uniformly applied around the crucible. The result is totally uniform heat. No hot spots, cold spots or overheating. Temperature controls start the heating element for quick heat-up to maximize your production time. We offer precision heat control over temperature ranges of 150° to 1000° F. We also offer optional controls which can hold desired temperatures, some to ± 2°F.
Melt Capabilities for a Wide Range of Material

Asphalt
Resin
Solder
Tar
Wax
Glue
Babbit
Paraffin
Synthetic adhesives

Eutectic salts
Oil
Capping compound
Plastics
Low melt alloys

For more information about what we can do for you,
contact us at:

800-359-2384
or 763-572-7961

or use the form on our contact page.

Hours of operation are Monday through Thursday 7 am to 3 pm and Friday 7 am to 2 pm, Central time.

This heating element
is the key to uniform heat in our pots
and tanks.