Alloy and Asphalt Melters - Type VRSD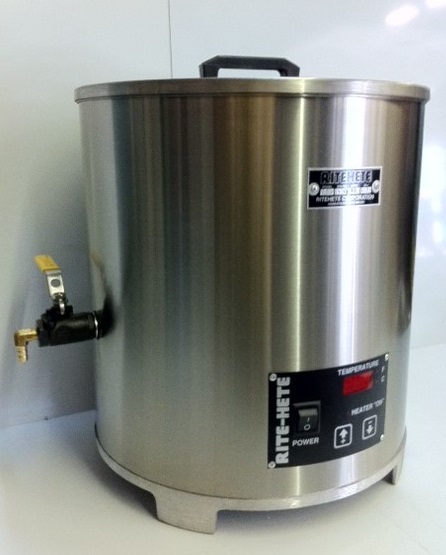 This highly-durable production melter has a heavy-gauge stainless steel inner and outer wall construction, with full-wrap ceramic heaters. The heated ball valve dispenser helps prevent nozzle blockage.
These melters are available in two sizes, 1 gallon and 3 gallons. There digital readout provides a constant temperature reference, along with programmed tank and dispenser settings. The alloy melters can be used with either low-melt or medium-melt alloy. Both 110 and 220 volt models are available. These have a temperature range of 60-350f.
MELTER SPECS: VRSD4D, VRSD4EX:
Capacity: 4 quarts
Shipping weight: 39 pounds
Crucible: 6.75" x 7.25" deep; 18 gauge stainless steel
Shell: 10.125" x 14" tall; 20 gauge stainless steel
Cover: Round, loose w/cool touch handle.
Electrical requirements: 7/4* amps @ 120 volts 4/2* amps @ 240 volts
Digital control is very accurate; Type "k" thermocouple
Control can be switched between Fahrenheit and Centigrade.
The alloy melter comes standard with a 1/4" carbon steel ball valve and a stainless steel cover. Pictured.
The ashpalt melter comes standard with a 1" brass ball valve and an aluminum cover.
* Alloy/Ashpalt
MELTER SPECS: VRS12D, VRS12DEX:
Capacity: 12 quarts
Shipping weight: 55 pounds
Crucible: 10" x 9 3/4" deep; 18 gauge stainless steel
Shell: 15" x 17" tall; 20 gauge stainless steel
Cover: Round, loose w/cool touch handle.
Electrical requirements: 11/7* amps @ 120 volts, 6/4* amps @ 240 volts
Digital control is very accurate; Type "k" thermocouple
Control can be switched to Centigrade by going to menu (see instruction manual).
The alloy melter comes standard with a 1/4" carbon steel ball valve and stainless steel cover.
The asphalt melter comes standard with a 1" brass ball valve and an aluminum cover.
* Alloy/Asphalt
WE ACCEPT VISA, MASTERCARD, AND AMERICAN EXPRESS CREDIT CARDS, 
CASHIERS CHECKS AND MONEY ORDERS; PREPAYMENT IS REQUIRED
If you have questions, or want to place an order,
please call us TOLL FREE: 
1-800-359-2384
OR
Send email to info@meltingtanks.com